Six Attorneys Team Up In Unusual Case
By Christian Nolan
According to witnesses, it was like something out of a movie.
"Every trooper said it was without question, the absolute worst crash scene they've ever been to. Worse than things they've seen in training," said Hamden attorney Carl Secola, who represents the family of Fred Held, who died in the 2007 accident on Interstate 95 in eastern Connecticut.
In all, three people died and three others were badly injured. A Hartford jury awarded $15.7 million to the plaintiffs on April 26 following a nearly month-long trial.
The case had a number of unusual and dramatic aspects. The fuel tanker that caused the accident was apparently involved in a high-speed altercation with another truck. An eyewitness who developed post-traumatic stress disorder testified at the trial. And five different plaintiffs' lawyers were involved in the case. "It was pretty remarkable the way all the lawyers worked together," said Secola. "It really turned out to be a mosaic. Everybody played a part, contributed."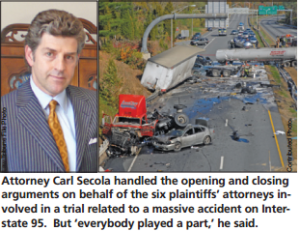 Nor is the litigation over. The plaintiffs will have to return to court this fall to try to access the assets of the corporate parent of the company that owned the tanker.
On Nov. 2, 2007, a 78,000-pound tanker owned by Northeast Carriers, of Danielson, Conn., a subsidiary of Saveway Petroleum, was carrying 7,000 gallons of diesel fuel when it left the northbound lanes of I-95 in East Lyme, crossed over the median near the I-395 exchange, and ended up in the southbound lanes, near Exit 76.
Eyewitnesses reported that the rig was going upwards of 75 to 80 mph. After it crashed through the median guard rail, it rolled down the highway, spewing fuel and taking out five vehicles. The Northeast Carriers driver, Peter Derry, of Massachusetts, died in the crash, as did drivers of two other vehicles, Fred Held and LuAnn Dugas.
Matthew Shafner, of Suisman Shapiro in New London, represented Dugas' estate. Shafner said the tanker separated from the Northeast Carriers truck and rolled down the southbound lanes "like a log," crushing the roof of Dugas' car and killing her instantly.
Held, who was driving a Honda, was also smashed by the rig. Held did not die instantly, according to a witness who tried to save him. Jim O'Connell, who was driving a truck near the crash scene, got out to try to help Held.
"Jim O'Connell got out of his truck, ran over to Held and Held was still alive," said Secola.
"What's your name bud?" O'Connell asked him. "We'll try to get you out of here."
But there was "no way to get Held out" his vehicle was so crushed by the impact, Secola said. "He passed there."
O'Connell, who testified at the trial despite his therapist advising him not to, has been treated for post-traumatic stress disorder ever since the crash, though he was not a party to the lawsuit. "This guy was a legitimate, honest-togoodness hero," said Secola. "He didn't even know what he was rushing into."
Three others were injured. James Clark, who was driving a truck owned by Southbay Trucking, was actually the first vehicle in the Northeast Carrier tanker's path. According to Shelley Graves, of Faulkner & Graves in New London, Clark suffered broken vertebrae in his back, broken bones in each foot, broken ribs, severe internal injuries, and post-traumatic stress disorder.
Clark spent two weeks in the hospital and another couple months in a rehabilitation center and wheelchair. Now 32, Clark has already had major back surgery and doctors doubt he will ever be able to work full-time again as a truck driver, said Graves.
"Tiny, his pit bull, was in the truck with him and made it through without a scratch," said Graves.
Samira Clough, another driver impacted by the runaway trailer, suffered cracked vertebrae in her back, a broken nose, a torn shoulder, a broken foot, and post-traumatic stress disorder. Clough was represented by Dina Fisher, of Robinson & Cole.
Lynn Mariani, who was riding with Clough, suffered a knee injury and post-traumatic stress disorder. Mariani was represented by Groton attorney Peter Bartinik.
Faulty Brakes
According to a police report, the Northeast Carriers driver, Derry, had methadone in his system at the time of the accident.
A witness claimed that Derry and the driver of another tractor-trailer, James Holloway, were having some sort of altercation on the roadway and driving aggressively. The second rig was owned by Geiway Expedited, which settled with the plaintiffs for $900,000 during jury selection. Geiway Expedited was represented by attorney Christine DeFilippo, of Milford.
The case went to trial in early April before Superior Court Judge Kevin Dubay. Secola handled the opening and closing arguments on liability. All the plaintiffs' lawyers gave separate statements regarding the damages suffered by their clients.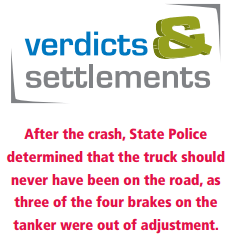 "That made life very easy and difficult at the same time," said Shafner of working with several other plaintiffs' lawyers. "Easy, because a lot of the work was split up among us. On the other hand, trying to present a case by committee is not the easiest way. We actually all got along well together and worked things out."
The jury deliberated for several hours before finding Derry completely at fault for the crash. It held his employer, Northeast Carriers, liable for common law recklessness as well as vicariously liable for its driver's negligence. After the crash, State Police determined that the truck should never have been on the road, as three of the four brakes on the tanker were out of adjustment. In all, the jury awarded $15.7 million to the six plaintiffs.
The estates of the two men who died received more than $3 million each, with Held's family getting $3,210,000 and Dugas' family $3,673,100. As for the injured parties, the jury awarded Clark $5,575,000; Clough $2,218,000; and Mariani $1,069,500.
Clark's trucking company, Southbay Trucking, was awarded $50,000 for damages to the vehicle.
Northeast Carriers was represented by lead counsel Paul Daly, of Hardin, Kundla, McKeon & Poletto in Springfield, N.J. Assisting Daly was James Alissi, of Fontaine Alissi in Hartford. Lawyers wouldn't discuss why settlement talks broke down. "The case needed to be tried," said Daly. "We wished the verdict had been more favorable but we appreciate the jury's efforts considering the evidence in the case."
The question now is where the $15.7 million will come from — or if that total will be available at all. Northeast Carriers had insurance policies totaling $3 million, but $400,000 of that was spent immediately following the wreck to clean up the fuel that spilled all over the highway. That leaves $2.6 million, which has not yet been distributed.
Instead, plaintiffs are attempting to access the assets of Northeast Carrier's parent company, Saveway Petroleum, in order to get more funds to cover the total verdict. To do that, the plaintiffs must try to pierce the corporate veil by arguing that Saveway Petroleum is the "alter ego" of Northeast Carriers and that equity dictates it should be held liable for injuries inflicted by Northeast Carriers, which went out of business after the crash. The piercing claim will be litigated in the fall.